Black & White Cake Design Wedding Favour
$3.00
$3.00|
$3.00|
$3.00|
$3.00|
$3.00|
$3.00|
$3.00|
$3.00|
$3.00|
$3.00|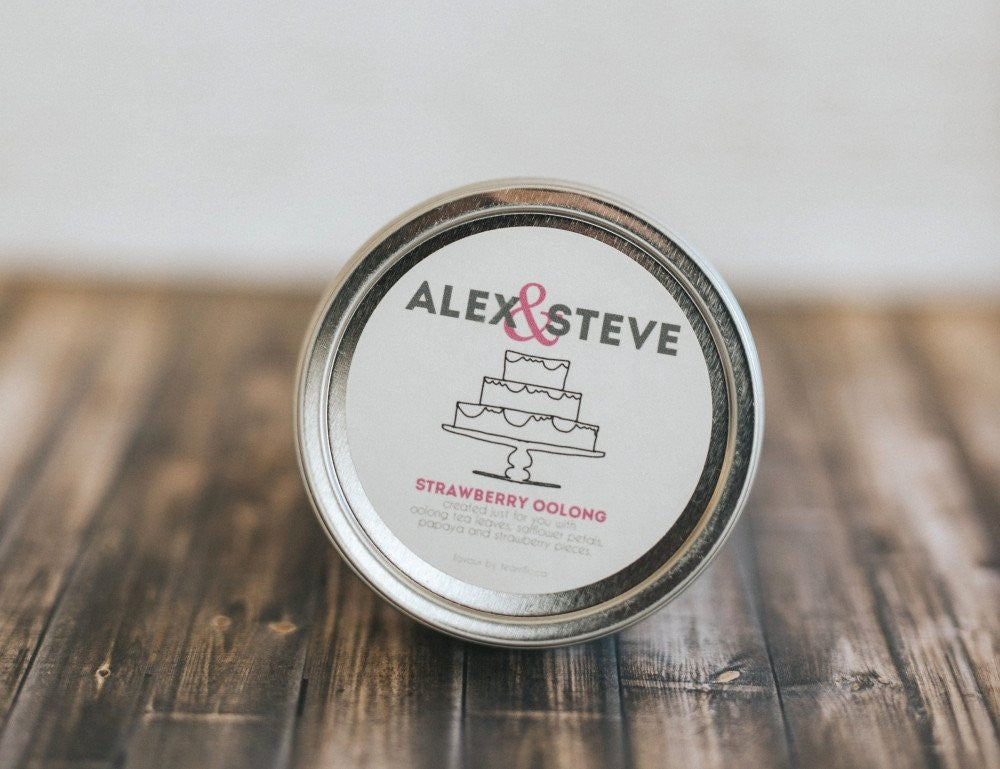 If you are a tea lover or you're celebrating someone who is, Tearrific's wedding favours are a perfect addition to your event!
Our tins are screw-top, which means they won't come open in Aunt Sally's purse while she's getting down on the dance floor, or in your suitcase when you ultimately decide to take one of these adorable little tins with you on your honeymoon (hey, tea is a necessity even on vacation!).
More Info
Want the perfect ice breaker that requires no effort from you? Choose 2-3 of your favourite teas and your guests will trade, smell, and share their tins as soon as they sit down for dinner at your reception. 
Labels are personalized with your names and information on your blend. The cake design is created just for Tearrific by BC-based artist Carol Schinkel. You won't see it anywhere else!
We offer several other designs if you're looking for tea favours but don't like this one. Click here to see the other designs available, including our glass jars.
Tin Size
These tins are small enough to be a great favour option for destination weddings. Tins have a diameter of 2 7/16" (approximately 6 cm) and are 13/16" (just over 2 cm) tall. They contain enough tea for 3-5 servings, based on tea density. 
Delivery/Shipping
Please note that we require 3-4 weeks to prepare and ship your favours. We suggest that you order your favours as soon as you have received RSVPs in case of any delays or disruptions. 
Tea favours will keep for up to 2 years from the date they are packed, so check them off your list early!
Black & White Cake Design Wedding Favour

Description

If you are a tea lover or you're celebrating someone who is, Tearrific's wedding favours are a perfect addition to your event!

Our tins are screw-top, which means they won't come open in Aunt Sally's purse while she's getting down on the dance floor, or in your suitcase when you ultimately decide to take one of these adorable little tins with you on your honeymoon (hey, tea is a necessity even on vacation!).

More Info

Want the perfect ice breaker that requires no effort from you? Choose 2-3 of your favourite teas and your guests will trade, smell, and share their tins as soon as they sit down for dinner at your reception. 

Labels are personalized with your names and information on your blend. The cake design is created just for Tearrific by BC-based artist Carol Schinkel. You won't see it anywhere else!

We offer several other designs if you're looking for tea favours but don't like this one. Click here to see the other designs available, including our glass jars.

Tin Size

These tins are small enough to be a great favour option for destination weddings. Tins have a diameter of 2 7/16" (approximately 6 cm) and are 13/16" (just over 2 cm) tall. They contain enough tea for 3-5 servings, based on tea density. 

Delivery/Shipping

Please note that we require 3-4 weeks to prepare and ship your favours. We suggest that you order your favours as soon as you have received RSVPs in case of any delays or disruptions. 

Tea favours will keep for up to 2 years from the date they are packed, so check them off your list early!

Reviews