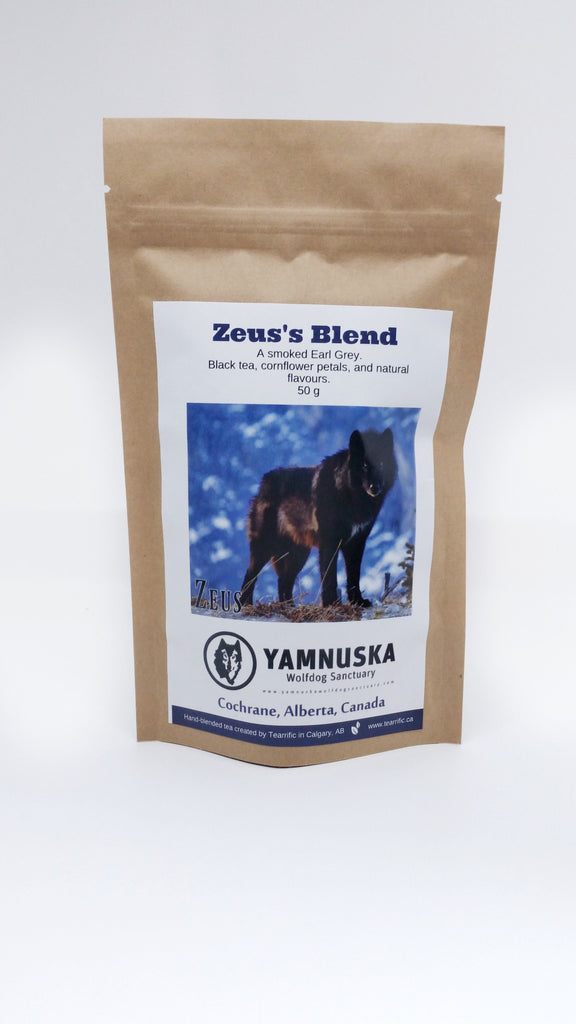 Zeus is the alpha male in the Yamnuska pack. You can learn more about Zeus and the other wolfdogs at Yamnuska Wolfdog Sanctuary by clicking here.
Zeus's Blend is a combination of our classic Earl Grey and a premium Lapsang Souchong black tea. This smoky Earl Grey was chosen for Zeus because of the streaks of grey in his coat (we also think it suits his "grumpy old man" reputation).
$2 from each bag of Zeus's Blend will be donated to the Yamnuska Wolfdog Sanctuary.
50g
Ingredients: Black tea, cornflower petals, natural flavours.
Zeus's Blend

Description

Zeus is the alpha male in the Yamnuska pack. You can learn more about Zeus and the other wolfdogs at Yamnuska Wolfdog Sanctuary by clicking here.

Zeus's Blend is a combination of our classic Earl Grey and a premium Lapsang Souchong black tea. This smoky Earl Grey was chosen for Zeus because of the streaks of grey in his coat (we also think it suits his "grumpy old man" reputation).

$2 from each bag of Zeus's Blend will be donated to the Yamnuska Wolfdog Sanctuary.

50g

Ingredients: Black tea, cornflower petals, natural flavours.

Reviews